Serving Air Ambulance Companies across the globe, we offer a fully committed service from the airport to any UK hospital, we also supply staff to accompany the patient to the final destination if required. We already work for London hospitals, able to pre-alert and communicate the smooth arrival and transition of the patient on your behalf. We offer HDU, Cardiac and non-emergency air side ambulance transport, also car ambulance transport for the UK, with a second base for road repatriation based in Spain, so distance is no issue for us.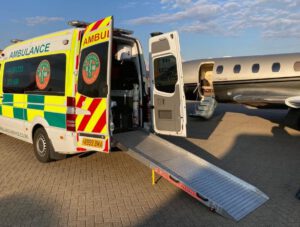 BM Ambulance Group is ideally situated in Ashford Kent to serve all London Airports Including London Heathrow, London City, London Gatwick, London Stansted as well as the smaller airports such as Luton, Southend, Lydd, Biggin Hill and Cambridge, all within a few hours of our primary base.
We have fleet of 50 specialist vehicles available to collect the patient with any family and take them to any UK hospital.  We have specific air-side equipped ambulances with air-side movement staff, often pilots themselves. We make sure the journey is as safe and smooth as possible for both patient, families and any accompanying medical support staff. Our highly trained staff are on hand to deal with any needs, with lots of local knowledge and access to medical supplies, services and care. We can also collect passengers and luggage in a separate vehicle and return air crew, doctors and/or nurses back to either the airport or accommodation for an overnight stay.
Please do get-in-touch with any help around local services and welfare support for accompanying staff and to enquire about our air side ambulance collection service.
For a quotation please call our 24hr office on +44 (0)1233 273 999