We assist funeral directors and the public, in the moving of specialist removal of deceased persons as well as Bariatric movements. We specialize in difficult extractions and offer support for this kind of difficult and often sensitive type of work.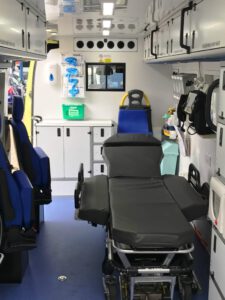 We specialise in the moving and extraction of large adults (bariatric) including the diseased. We can move people up to 400kg (62 stone), and transport them to a mortuary, hospital or anywhere to and from Europe with our EU transport service. Our specially fitted ambulance can carry all the of the equipment needed, including bariatric body bags which will hold a person weighing up to 310kg (48.8 stone). We can also extract a person down the stairs using our special Evac-Mat (shown below) this enables us to move a person or body down stairs safely, and on to the awaiting bariatric Ambulance with care and dignity.
As well as Bariatric, we can also collect and transport any deceased person, with a cost effective services.
Call our 24 hour Control room on +44 (0)1233 273 999 or email us at the links on our contact us page.