We can offer our vehicles for hire for film and TV work, through Kent, London, Surrey and Sussex. We can also offer location medics, ask our staff to act in the proper medical manner or just guidance on medical continuity.  We are a Private Ambulance Company with our own ambulance uniform business able to offer uniforms and clothing as well as a wide variety of medical equipment and consumables.
BM Ambulance Service has a varied fleet of front line ambulances, cars, 4×4's, ambulances, quad bikes, secure vans with home office approved cell.  liveried motorcycles and bicycles as well as fire support vehicles. All our vehicles are fully stocked to NHS front line specifications with all equipment in date and regularly checked, encase we need to react to a defined emergency wile filming. You are secure in the knowledge that any inside vehicle filming will be clinically correct.

To Enquire or book please fill out our Film Booking Form
As all our staff are qualified medically to a variety of levels, we can also supply the medical facilities for staff and crew whilst filming.
BM Ambulance Service are a professional independent ambulance provider and this extends to our TV and Film division. Not only can we provide medical cover for your production, we also offer our vehicles as film props, as well as uniform and Medical Equipment. Whilst our vehicles are being used as a prop they can be re-branded to your specification.

For our vehicles to operate under emergency conditions  they would have to either be on private land or operating within the limits of a film set as set out by the local authority. Depending on your requirements we can provide staff just to drive the vehicles or medically trained staff who can make it as true to life as possible. If you would like us to provide you with a quote for either medical cover or props then contact us today.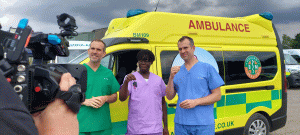 As well as Ambulances and Fire Engines, we also have a fleet of Aircraft that can be used for Film and TV work with actual flying aircraft, static and airborne alongside studio airframes with our partners. We have a range from 2 seater Aerobatics planes to 6 seater Touring aircraft, all Kent based (Rochester, Headcorn and Lydd). All flying is carried out in accordance with current CAA regulations and authorities, part SPO.