BM Ambulance falls team, based in Ashford Kent, asses and then correctly lifts people from the floor with the correct equipment, for patients who have fallen at home or place of care in the Kent area.  Our response times reduce workload on the front-line ambulances, also reducing stress and negative outcomes for the patient being left on the floor for prolonged periods of time.
BM Ambulance Falls Service offers 'non injury fall lifting service' for the Kent area. Our trained medical crew will do a full set of observations, a falls assessment and then if safe to do so leave the patient at home, contacting any referral or suitable support services that may be needed.
This reduces the burden on the NHS for non-injury falls freeing up front line emergency ambulances.  On acceptance of the call, our operations center will communicate with SECAmb and inform them that we are on-route an leave at home or convey to hospital in one of our cars or one of our front-line ambulances.
Using the flow chart below you can decide if we are suitable, or if an ambulance would be the better option.
The Ambulance Service in the UK issue guidelines on when to call the emergency services. This chart is called 'ISTUMBLE'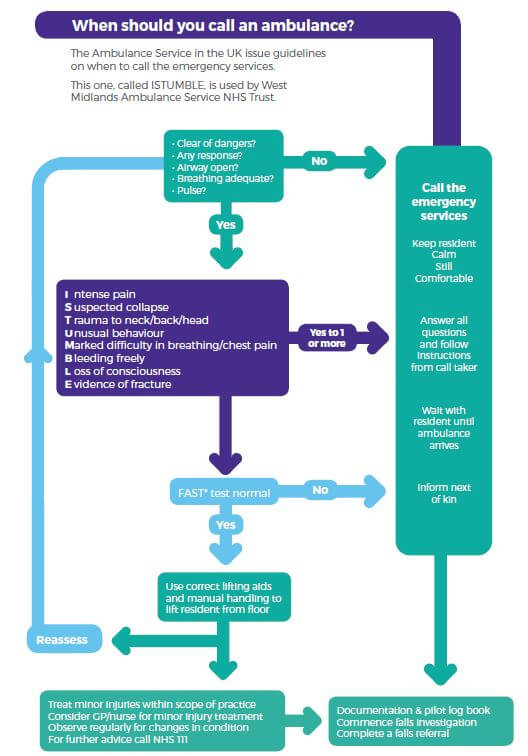 If you have a patient or a family member who needs our help, please contact our 24 hour office on 01233 273 999
This service costs from £250 (depending on time, distance and day) and includes the following.  The full price will be quoted on calling.
Booking taken over the phone, and our office will communicate with SECAmb and inform them that we are on-route.
Arrive at the patients address
Rapid patient assessment to determine any injuries
Full patient assessment
Lift patient from the floor using available methods
Second set of observations
Assess the home area and identify any trip hazards
Then either… Leave at home, arrange GP/Ambulance or take to hospital if the patient can mobilise to a car.
The video below will demonstrate how the Mangar Camel is used.
Non Injury Falls Service in Kent, you can contact us for more details get our location