Land Ambulance from Ireland (Eire) to the UK. We can be by your side in under 12 hours with an ambulance ready to go back to the UK.
Registered with and regulated by the Care Quality Commission, we are proud of our land ambulance Repatriation Service from Ireland (North and South), our service offers the provision for being safe, delivering high quality care to the patient during their transfer from all European countries.
We are a private ambulance company based in Kent, England and we can be in Ireland the next day for recovery back to the UK. We can deliver a patient anywhere in the UK including all London hospitals.  We are ready to go when you call and you will have a qualified, trained member of staff and driver experienced in patient care and movement by road. We are also able to recover relatives, friends and family from Ireland if we are made aware in advance.
Ireland takes a little more planning, as the ferry company need to be aware and if the patient is bedbound the ferry must have a passenger lift large enough to take a stretcher, so early planning is key to make this happen.
Please use our 24 hour number: + 44 (0)1233 273 999
What is the process?
Please fill in the Quotation Request Form.
We will call you and go through finer details.
We may arrange for our Clinical Director to speak to you, and they will ensure transportation is correct and safe for the patient.
Once we have agreed, we will then give you a plan of collection time, as well as an estimate time for being back in the UK.
We will communicate with both hospitals or care homes each end, both UK and Ireland.
Any hospital notes you have, we will need. Any contact with your UK doctor for patient notes will be helpful also. We must travel with the patients Passport and any medical notes, and this will be needed by the receiving hospital. The more information you can give us, the better the planning will be, and the safer the transfer from Ireland to the UK
Please dial 112 or 999 in the event of an emergency in Ireland.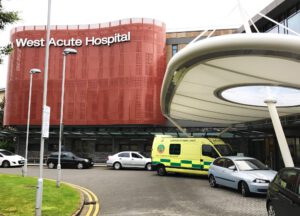 Amazing company, brought us back from Germany after my Fiancé was in a bad accident. We were having trouble getting home, phoned Craig and they were with us the next day. Can not thank them enough. Such lovely kind caring people, a comfortable ride home and everything was taken care of. (review from our Facebook page)
Please contact us for support and patient transfer from Ireland. MedEvac