Repatriation from France (Française)
Registered with and regulated by the Care Quality Commission in the UK, we are proud of our preparation for the provision of safe, high quality care for patient transfer from France back to the UK.
We are a private ambulance company based in Kent, England and only 20 minutes from the Euro Tunnel. We can be on the continent within 2 hours for recovery back to the UK and can deliver a patient anywhere in the UK as well as all London hospitals, as these are also close to us for the return journey to base, saving you additional transfer costs.
We are ready to go, you will have a qualified, trained member of staff and driver who are experienced in patient care and movement by road. We are also able to recover relatives, friends and family from Europe and Ireland if we are made aware in advance.
Please use our 24 hour number: + 44 (0)1233 273 999
We are based in Kent, close to Dover, Ashford international station and Euro-tunnel for access to Europe for patient road transport recovery.
What is the process?
Call us for availability and get a quotation. We arrange for our Clinical Director to speak to you, and he will ensure transportation is correct and safe for the patient. Once we have agreed, we will then give you a plan of collection time, as well as an estimate time for being back in the UK.
What can you be doing in the meantime?
Any hospital notes you have we will need, if you can arrange for a translation that will help, or we can arrange for a translation on your behalf. Any contact with your UK doctor for patient notes will be helpful also. We must travel with the patients Passport and any medical notes, and this will be needed by the receiving hospital. The more information you can give us, the better the planning will be, and the safer the transfer.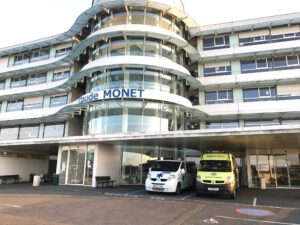 Please dial 112 in the event of an emergency in France.
Please contact us for support and patient transfer from France. MedEvac from France