BM Ambulance Service offers 'non injury fall lifting service' for the Alicante area. The aim of our service is to be with the patient faster, to be able to assess them quicker and if the situation is right to proceed to pick them up from the floor and make them comfortable. Our trained medical crew on arrival will do a full set of observations on the patient, assess the home and if safe to do so leave the patient at home to get on with their day. This in turn will reduce the burden on the Spanish ambulance service for non-injury falls and by doing so in most cases will free up emergency ambulances. But will also take away the waiting time and fear of not knowing when help is arriving.
Why
Anyone can have a fall, but it is a higher risk for older people as they are more vulnerable and more likely to have a fall. This makes them feel vulnerable and will see a decrease in their confidence, they may become withdrawn, frustrated and feel as if they've lost their independence.
Around one in three adults over 65 who live at home will have at least one fall a year, and about half of these will have more frequent falls.
Most falls don't result in serious injury. However, there's always a risk that a fall could lead to broken bones.
What to do
Using the flow chart below you can decide if we are suitable, or if an ambulance would be the better option.
The Ambulance Service in the UK issue guidelines on when to call the emergency services. This chart is called 'ISTUMBLE', and is used by West Midlands Ambulance Service NHS Trust.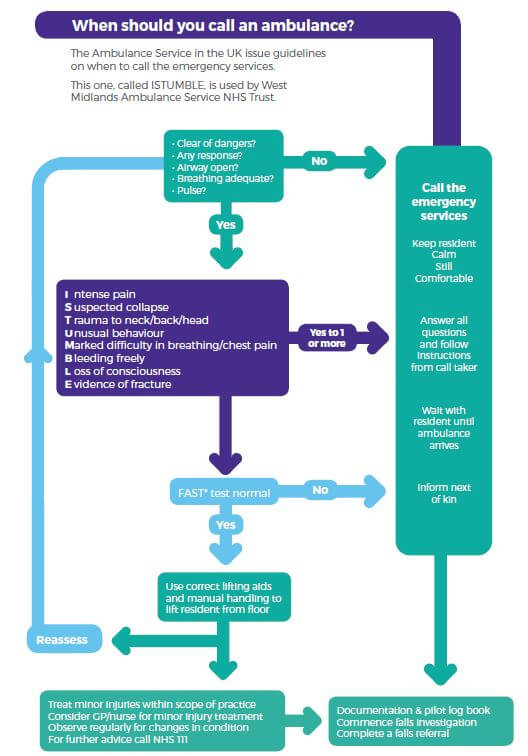 If the patient is stable and does not require an Emergency Ambulance we will come and use a Mangar Camel to pick them up safely.
If you have a patient or a family member who needs our help, please contact our 24 hour office
This service costs from €200 (depending on time and day) and includes the following.
Booking taken over the phone
Arrive at the patients address
Rapid patient assessment to determine any injuries
Full patient assessment
Lift patient from the floor using available methods
Second set of observations
Assess the home area and identify any trip hazards
Then either… Leave at home, arrange GP/Ambulance or Take to hospital if the patient can mobilise to a car.
To book this service, please fill in this form and call +34
966 26 50 00
The video below will demonstrate how the Mangar Camel is used in this type of situation.
https://www.youtube.com/embed/_E67R1u3OR8