Extras
How many times have you seen first aid staff and paramedics, who are a vital resource standing around when they are being paid by the event organisers? At least a walk around or chat with some of the people resting after treatment could be helpful.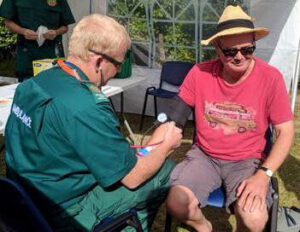 Unlike normal companies, we go the extra mile, not only to please our customer, but to also please members of the public who attend. Whilst we are at
an event, and with your permission, we will offer a free Blood pressure check to ANY member of the public, this is important to identify people with a high blood pressure, as this can be the number one cause of Stroke. Working with the Stroke Association, we aim as a company to provide over 5,000 BP checks a year at events and you will be helping us achieve this goal.
Also, not only that, for 2017 we aim to roll out our team of staff to demonstrate how to perform CPR to members of the public, having a nation that are trained in CPR to act immediately is so important for us, at the moment, the shocking statistics is if you have an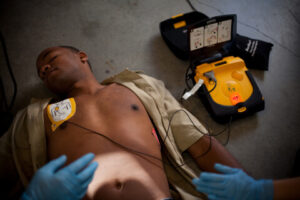 out of hospital cardiac arrest, your chances of survival are as little as 10%. We want that number to rise and the biggest influence is to have members of the public trained from all walks of life to be able to start CPR early. Our goal for 2017, is to show over 6,000 people CPR, in association with the British Heart Foundation.
In 2016 so far we have done over 3,750 Blood Pressure Checks

Please read more about us.