This course is if you have a current FPOS-i and wish to convert to FREC. You attend the same course, but over a 3 day period not 5.
FREC 3 Key Facts
| | |
| --- | --- |
| Awarding Organisation: | Qualsafe Awards |
| Ofqual Regulated? | Yes |
| Course Duration: | 5 Days. (or 3 days if converting) |
| Certificate Validity: | 3 Years (BLS and AED Training Recommended Annually) |
| Availability: | Please call us on 01233 273999 or email: training@bm-ambulance-service.co.uk |
| Clinical Endorsement: | The Royal College of Surgeons of Edinburgh - Faculty of Pre-Hospital Care |
This regulated and nationally recognised prehospital care qualification is clinically endorsed by The Faculty of Pre-Hospital Care- The Royal College of Surgeons of Edinburgh, and fulfils the competencies set out in the Pre-hospital Emergency Medicine (PHEM) skills framework at descriptor level D.
Who should attend this course?
The QA Level 3 Certificate in First Response Emergency Care (QCF) qualification is specifically designed for those seeking a career in the emergency services, ambulance services, the event medical sector or those who work in high risk workplaces.
Entry requirements?
Learners must be at least 17 years old on the first day of the training.
There are no other formal entry requirements but to benefit from the learning we advise that Learners have a minimum of Level 2 in literacy and numeracy or equivalent and a basic understanding of first aid.
Key Facts
QAN Number: 601/5910/8
Ofqual Regulated? Yes
Number of Units: 3 mandatory units
Guided Learning Hours (GLH): 35 (118 hours contextualised learning)
Contact Learning Hours (CLH): 35 minimum
Credit Value: 15
Assessment: 13 x Practical assessments, 3 x Theory assessments (Multiple Choice Question Papers), 4 x Skills tests and continuous formative assessment conducted throughout the course.
Qualification Valid For: 3 years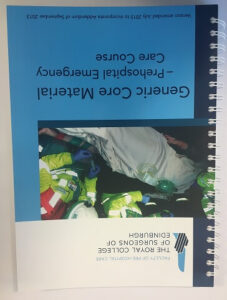 Cost of Course £375.
NEXT COURSE: Please see our Course Dates
MANDATORY PRE-COURSE READING – you will have to read the first 141 pages of 'Generic Core Material – Prehospital Emergency Care, by Faculty of Prehospital Care, Royal College of Surgeons of Edinburgh'. Before joining a FREC 3 course. However, we feel Ambulance Care Essentials is a much better book, and can also be purchased from us.
Buy Book Here – FREE POSTAGE
Qualsafe (the awarding body) also recommends the up to date JRCALC (the large version has a lot of useful illness/trauma management information as well as the usual drug guidelines), Ross and Wilson (for anatomy and physiology) and Nancy Caroline's Emergency care in the Street. (all available from Amazon)
We are within 1 minutes drive of a train station and hotels