Extrication of Bariatric people in Kent
Evaluate the risk before moving any person, Extrication of Bariatric people, If you need help call us, we are there to aid in moving people. For more details contact here   our location
When we think of an Extrication, we often think of a Road Traffic Collision (RTC). A well trained and dedicated team, who are able to move you out of your vehicle without doing any further damage to your C-spine, then transport you safely to hospital. However we are finding in today's world that an extrication at an RTC is not the only challenge we face. An extraction can be responding to a call, to a person that has had a medical emergency and collapsed behind a bathroom door. Today however, society in general are becoming larger. Moving a person from the 14th floor of a block of flats with a lift out of service presents unique challenges.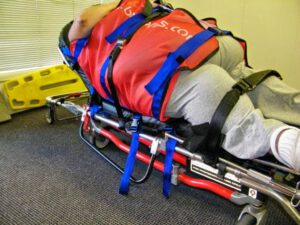 That's why having the right people and equipment ready to handle such a task is so important. It takes team effort and lots of training to get this right, allowing the patient to be moved safely and with dignity. Bariatric patients can be even more of a challenge and in the UK the amount of obese people is on the rise. It's a common problem, estimated to affect around one in every four adults and around one in every five children aged 10 to 11 in the UK.
We have trained staff and specialist equipment to assist with these scenarios.
Always evaluate the risk first, help is only a phone call away.
For help with extrications call the BM Ambulance 24 control room on 01233 273 999