Private Ambulance to Lourdes in France
We offer you the patient the chance to travel in private and luxury on board one of our repatriation ambulances to Lourdes in France where you can visit the Grotto of Massabielle and can drink or bathe in water flowing from a spring in the grotto.
Our Ambulance is built and designed for you the patient and if required one family member or friend.
We would collect you from your home in the UK, and travel non-stop to Lourdes in our custom built ambulance, you will have on board a driver and medical personal qualified to your level of need.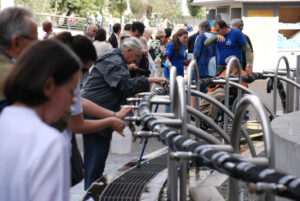 During the journey you will be able to either lay on our stretcher or sit in a chair,  food and drink will be served on-route, and even if you desire a glass of wine.
The length of the trip is down to you, we tailor each trip to your requirements, we can stay at Lourdes for the planned number of days then return  to your home in the UK.
As mentioned each journey is tailored to your needs, and as such each trip is priced individually to meet those needs. We will do everything possible to meet your requirements, and send you a final itinerary for the trip.
We are regulated by the Care Quality Commission, so you know each journey will be safe, caring and most importantly enjoyable.
For a quotation, please call us on +44 (0)1233 273999