Luxury Ambulance Transport
In December 2017, we are delighted to announce that BM Ambulance will take delivery of our Exclusive Luxury Ambulance, which will be available to hire for any transport requests across Europe and the UK. Our Prestigious Ambulance will be the pride of our fleet and has been custom built to be spacious and well equipped. Our Ambulance has been hand crafted to encompass the items a patient may need for their journey no matter how long or short.
Our dedicated medical team will always be on hand for our patients every need and requirements and our service being tailored to an exclusive patient centered approach. BM Ambulance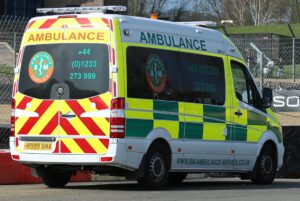 Service are able to transport you anywhere across Europe, in comfort and with the knowledge our patients will have the first class dedicated service they deserve.
At BM Ambulance our medical team offer a unique continuity of care on all our journeys and we always strive to go beyond our clients expectations.
Whilst our patients are on-board they can choose to listen to music, watch a film, charge their phone and connect to the on-board WiFi to enable them to roam on the internet. Maybe they would like to play on the XBox? If they want to just rest or sleep, our large comfortable stretcher will support their body in many ways to enable this.
On board we are able to offer a selection of hot beverages or even a cold drink from the on-board fridge. The rear of the ambulance is fitted with mood lighting, heating and air conditioning, so no matter what country we are in our patients will be comfortable on board. Safety is our most important factor, so this ambulance comes with Collision Prevention Assist and Lane Keeping Assist as standard.
If you would like some more information about our Luxury Ambulance, please call us today on +44(0)1233 273 999