One of our staff was coming home from a family visit in Kent, when he found himself first on scene at a road traffic incident on a motorway over in Essex. Being medically trained and on his way back from an event, he had our first on scene responder bag in the back of the van.
Knowing what to do and what not to do is very important. Andy had the correct Hi-Viz clothing for over 40mph and was able to approach the vehicle once the traffic had slowed and the scene was safe. His wife did not have the correct PPE and equipment so had to stay behind the barrier (not in the stationary van they where travelling in of course). While this was frustrating, it was what needed to be done and assessed correctly at the time.
As a private ambulance company, we know that not everyone needs to be subjected to as much kit as we can possibly throw at them, just because we have it. It was twenty minutes until the first Paramedic was on scene and over an hour before the crew arrived. Andy knew to step back when the paramedic arrived, and not to intervene, but stand back and look at the overall scene and the patient from a distance.
There are a few private ambulance companies that simply ask staff to work for them without seeing them in action. We always spend time with our staff and pace them when training, make sure they are as aware of the dangers as Andy and know when to step back and take a look at the overall scene.
We work in high speed sports, motor racing events and cycling events. We need to make sure that the image of our private ambulance service doesn't reflect badly on your event and management when we have a large audience judging us and expecting the best from you!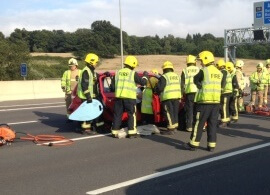 When the Police had stopped the traffic making the scene safe, Andy's wife was able to help and offer support for the driver. The driver was taken off by the local ambulance trust, alert and responsive without any pain and we expect him to make a good recovery.
Well done to Andy and his wife, had we have been called out we could have invoiced for the job! Andy's wife realised she had the potential to offer medical care and has recently passed as a Community First Responder too.